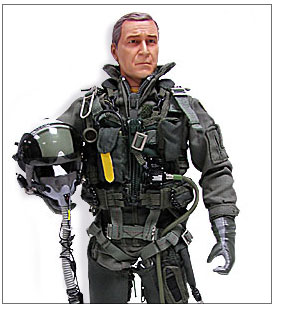 Hero worship is fine.

Heroes are fine.

Police and Firefighters are heroes, servicemen are heroes.

However, politicians are not.

Despite their past record, when they become Politicians, they're not heroes.

We shouldn't look up to them, let alone make Action figures.

Unlike the Rep and Dems, these Police, Firefighters, and Servicemen, don't take huge hand outs from big business and unions.

These people do their JOB despite politics, and put their lives on the line for us.

Please make Action Figures for real Heroes, not money-grubbing politicians like Bush and Clinton.
__________

Despite this rant, here are the Action figures I want to in Toy Stores.
Pretzel Choking President Bush Action figure
This one will be a hot seller during Christmas. The doll will come with its very own "action" pretzel that will fit into his mouth so he can choke.
Clinton Sitting at Oval Office Desk
This one is a complete replica of the oval office of the White House. Everything is exactly how it was back in the 90s during Clinton's term. Even comes with a Monica Lewinsky "action" doll that sits right underneath the President's desk. Cigars are sold separate.
Newt Gingrich (family values) Divorcing Doll
This former speaker of the House doll comes with an older wife, which then can be divorced after the wife doll grows older. If you show three proofs of purchase to the company, they will then send you a much younger Wife doll for Newt (Family Values).
The Bush Daughters Collection
These dolls come with beer cans and two toy kegs. The set is complete with secret service dolls to bail friends out of jail.