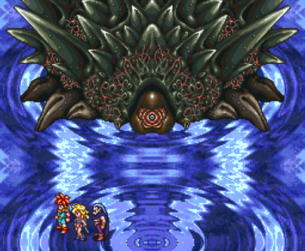 Story Behind Chrono Trigger Part 3
Lavos is an alien parasite from space disguised as an asteroid. Chrono and gang at some point make it to the distant past, 65,000,000 B.C.
In this past, reptiles rule the planet. They have large kingdoms and some technology. They stand up-right and can talk. While on the other hand, humans are basically cavemen living in tribes in the forest. Chrono befriends a cavewoman by the name of Ayla, who is the chief of one of the tribes of cavepeople. After a little adventure, the reptiles and Chrono clash. After defeating the reptile leader, the leader says changes are on the way. The rule of the reptiles is about to end, and nature on the planet will soon be off balance.
After the reptile leader dies, the sky grows dark and then a fire ball in the sky comes hurling toward the surface of the planet. The ground shakes violently from the thunderous impact. Ashes and dirt fly into the atmosphere, shielding the sunlight from the planet. The planet grows cold, and most of the intelligent reptiles begin to die off. The humans are able to cope with the weather change. Thus, Lavos's arrival starts the Ice Age.
Next up the strange connection between the Humans and Lavos…